(i) Meaning, types and Objectives of Skewness
Meaning. Skewness means asymmetricity of the distribution of a statistical series.It is opposite to the symetrical nature of a series. In a symmetric series, the following characteristics are found:
Characteristic of a Symmetric Series
The values of the series when plotted on a graph paper give a bell shaped curve as under: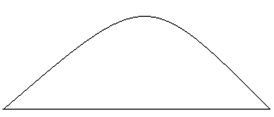 The values of Mean, Median and Mode are identical.
Both the extreme quartiles i.e. Q3 are equidistant from the Median i.e. (Q3 – M) = (M – Q1).
Both the extreme Percentiles, and Deciles are equidistant from the Median.
i.e.          (P90 – M) = (M – P10), and
                (D9 – M ) = (M – D1)
The sum of the positive diviations from Median is equal to the sum of the negative deviations from Median i.e. ∑(X-M) =0
The frequencies are equally distributed at the points of equal deviations from Mode.
B1 (Beta one) is equal to zero.
B2 (Beta two) is equal to 3.
Y1 (Gamma one) is equal to zero.